Analyze the cost of a CAD design or Bill of Materials at anytime during the design process. Know your material and machining cost before you buy a single steel. By using your own purchasing data to calculate the cost of purchased items as well as the raw steel in a tool, you'll get accurate results every time.
With a 3-D CAD model, rough, finish and wire EDM machining costs can be determined. This intuitive tool will also analyze castings, pattern, burnout cost, and much more. When used in CATIA, designers can take advantage of a real-time cost "ticker" in the corner of their screen so they know the impact of using different components.
 Getting started is easy. You can import Bills of Materials directy into the tool, it does the rest for you! Even if you have no CAD design at all but, only a stock list, no problem. Import a BOM directly from excel and know all your material costs in seconds. When you analyze a job, you can easily creates informative reportsshowing the results of the analysis. Use these reports to compare to actual budget amounts and identify potential cost over-runs before ordering a single steel.
No need to hope you estimated right on a current project. Don't let another losing job hit your shop floor again! Contact 3-D Solutions today and arm yourself with the facts on your tooling costs.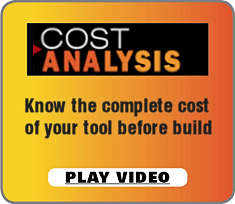 Download 3-D Software Solutions Brochure
Other 3-D Software Solutions:
Power Templates,
Power Catalog and
Power Applications